Artisanal audio components made in Japan. Vintage, circa 2018
TWO SELECTIONS OF OUTPUT TUBES: 6L6GC(5881) AND OPTIONAL 6CA7(EL34) TUBES.
By switching two selectors inside of the cabinet, you can use either of 6L6GC or 6CA7 (EL34) , and LED indicators on the front panel will show you which tube is applied.
"PREAMP-IN" terminals on the rear panel allow you to use CS-600 as a power amplifier.
By switching a selector on thr front panel, by-pass all the functions only excepting a Volume control.
A WIDE RANGE OF SPEAKER APPLICATION
Multi output impedance selector: 4/6/8/16 ohms.
A wide-ranged and flat frequency response upto 100KHz is enough capable for future digital audio format such as SACD/HDCD.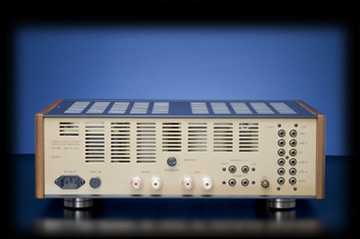 CS-600 FEATURES
Twin-triode tube 6CS7 for the first-stage amplification.
WBT type speaker terminals.
Heavy-duty output transformer for 50W grade amplifiers.
Large capacity choke-coil: 5H350mA
Dumper tube 6CJ3 (for Colour TV use) is applied to delay a supply of high voltage (B-Voltage) to output tubes in order to protect output tubes from damages and to longer the life.
All high-end audio grade electrical components (condensors, resistors)
Operation lamp indicator
Succeeding a front design of CS-300/CS-300X.
24K Gold-Plated Knobs.
Side Wood-Panels.
CS-600 SPECIFICATIONS
TUBES EQUIPPED
(4) 6L6GC (5881) SOVTEK, (EL34/6CA7 – Option)
(4) 6CS7
(1) 6CJ3
OUTPUT POWER
32W x 2 (6L6GC) at 1KHz.
28W x 2 (EL34) at 1KHz.
FREQ. RESPONSE
10Hz – 100KHz. (-0.1dB)
DISTORTION
0.7%(10W)
INPUT SENSITIVITY
900mV at 20W
OUTPUT IMPEDANCE
4/6/8/16 Ohms (Selectable)
PWR CONSUMPTION
WEIGHT
22.5 Kgs.
DIMENSIONS
450 X 360 (D) X 142 (H) mm
ATTACHMENT
Detachable AC Power Cable x 1
---
RS-30EQ is equipped with the CR-type equalizer based on GE(General Electric/USA) 12AT7 authorized by J.A.N.(Joint Army & Navy) standard of the US Army, and can reproduce a very high quality and clear sound without adding any NFB.
To avoid compromising sound quality using the NFB type, one of the solutions we adapted to completely protect the sensitive CR type equalizer was to originally develop for RS-30EQ a high quality "Orient-Core" power transformer perfectly shielded to shut-down hum noise from the transformer perfectly.
We have also selected the finest available high-end audio components to keep the deflection of the RIAA curve below +/-0.2%.
RS-30EQ SPECIFICATIONS
TUBE COMPLIMENT
JAN 12AT7A (G.E.) X 2
6X5GT (G.E.) X 1
GAIN
23.5dB
RIAA CURVE
Less than +/-0.2%
INPUT IMPEDANCE
47Kohm(Normal)
MAX. INPUT
400mV (2KHz.)
OUTPUT VOLTAGE
175mV
POWER CONSUMPTION
17W
WEIGHT
6.0 kg
DIMENSIONS
340(W) x 140(H) x 240(D) mm
ATTACHMENT
Power Cord
---
SMALL AND POWERFUL TUBE EL84 (MADE BY "SOVTEK" / RUSSIA)
CS-300X(S) is equipped with SOVTEK Tube EL-84 which has been welknown by audiophiles for its high sound quality against its small size.
A high input sensitivity of EL84 does not require a complicated circuit and accordingly, it can create a low distortion output signal.
CS-300X(S) SPECIFICATIONS
TUBES EQUIPPED
EL84(SOVTEK) X 4
12AX7A(Sovtek) X 2
OUTPUT POWER
15W X 2
FREQUENCY RESPONSE
15Hz – 100KHz (-2 dB)
DISTORTION
0.7%(10W)
INPUT SENSITIVITY
600mV
INPUT IMPEDANCE
100K Ohms
OUTPUT IMPEDANCE
4/6/8 Ohms (Selectable)
POWER CONSUMPTION
82W
WEIGHT
10.5 Kgs.
DIMENSIONS
360 X 270 (D) X 140 (H) mm
ATTACHMENT
Detachable AC Power Cable x 1